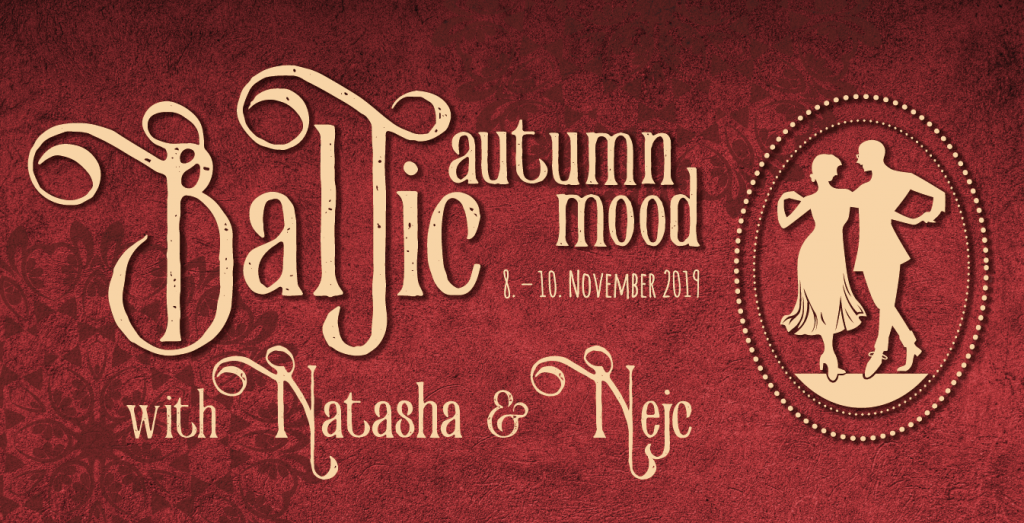 BalTic Autumn mood is a cosy little Balboa and Slow Bal festival at the beautiful Baltic coast in Rostock/Germany from 8. – 10. November 2019. We welcome two world class teachers who will inspire us with their knowledge and passion for dancing. And there will be plenty of time for you to practise and have fun at three parties with live bands and skilled DJs.
---
Teacher
Natasha & Nejc
Natasha Devyatkina
Natasha is Russian and has been dancing since she was seven. In 2001 she discovered swing dancing and fell in love with it. She joined innumerable swing dance workshops in Russia and other countries, and soon became one of the best Russian dancers and teachers.
She is now living in France, working with Olivier and running the school Rockswing06. Natasha likes competing for fun but enjoys especially the social dancing by sharing her passion with others. With a very personal style, she teaches all kinds of swing dances: Lindy Hop, Boogie Woogie, Balboa and West Coast Swing.
She is involved in the organization team of some of the biggest international dance camp (Balboa on the promenade, Boogie Swing in Toulouse, Montpellier Swing Dance Festival, St Petersburg Swing Festival).
Nejc Zupan
Nejc is one of the founders of the new swing age era in Slovenia and started swing dancing back in 2004. He is one of the main culprits in popularizing lindy hop in Slovenia in the early 2000s.
His swing dance experience is a collection of many international workshops. He uses experience from modern movement theatre music and classical theatre to bring a fresh and fun approach to teaching and developing swing dance. He pays special attention to jazz moves and musicality, both essential to swing dancing. He has been teaching Lindy hop, Balboa, Charleston and Blues on international circuit since 2008.
Workshops
Balboa Level I: 3h Beg/int+
Balboa Level II: 3h Int/Adv+
Slow Bal Level I: 3h Beg+
Slow Bal Level II: 3h Int+
Leveldescription
Balboa Beg/Int+: You should have at least 1/2 year of Balboa experience and you know the Basics Uphold, Downhold, Out-and-Ins, Lollies, Swivels.
Balboa Int/Adv+: You should have at least 2 years of Balboa experience. You are safe in all Basics, Toss-out, Outside/Inside turns, musicality, you can dance to fast music and you are keen on improving yourselve.
Slow Bal Beg+: For absolute beginners in Slow Bal, but you should meet the requirements as described for Balboa Beg/Int+.
Slow Bal Int+: You are an experienced Balboa dancer and you already know the Basics of Slow Bal
---
Bands
TBD
Locations
Workshops and parties will be in the beautiful and historic Max-Samuel-Haus. It is the cultural center for jewish history in Rostock. Adress: Schillerplatz 10, 18055 Rostock.
---
Timetable
Friday 8.11.2019
19:00 – 20:00: Balboa Level I
20:10 – 21:10: Slow Bal Level I
21:10 – 02:00: Party (Live Band)
Saturday 9.11.2019
10:00 – 11:00: Balboa Level I
11:10 – 12:10: Slow Bal Level I
12:40 – 13:40: Balboa Level II
13:50 – 14:50: Balboa Level II
15:20 – 16:20: Slow Bal Level II
16:30 – 17:30: Slow Bal Level II
21:00 – 02:00: Party (Live Band)
Sunday 10.11.2019
11:00 – 12:00: Balboa Level I
12:10 – 13:10: Slow Bal Level I
13:40 – 14:40: Balboa Level II
14:50 – 15:50: Slow Bal Level II
16:30 – 20:00: Teadance
---
Pricing
Pass
Price
(normal)
Price*
(members)
Party Pass
30 €
20 €
Full Pass 1 Level
(3h Workshop)
65 €
45 €
Full Pass 2 Level
(6h Workshop)
100 €
70 €
Full Pass 3 Level
(9h Workshop)
135 €
95 €
Full Pass 4 Level
(12h Workshop)
170 €
120 €
*Price for members of Swing Connection Rostock e.V.
Note: There are no other pricing options than shown in table!
---
Registration
Registration starts 01.08.2019